Irving Middle School hosted State Rep. Welch through Principal for a Day Program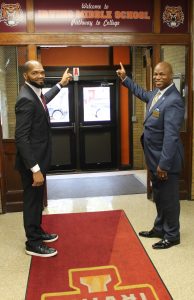 On Monday, November 4, 2019, Irving Middle School, in partnership with the Illinois Principals Association, welcomed State Representative Emanuel "Chris" Welch as the 'Principal For A Day.'
The day began with a warm welcome from the National Junior Honor Society followed by a tour of the school. The first stop on the tour was at the Rising STARS Café where Rep. Welch ordered a fresh cup of coffee and met with students in the STARS (Successful Transitions Achieve through Responsive Support) Program. This program prepares students for high school and life after school by learning life skills, job skills and working on social interactions.
Rep. Welch then visited several Social Studies classrooms and interacted with students and staff in their daily lessons. Students were engaged and interviewed Rep. Welch about his educational background, work and life balance, as well as career. In Mr. Williams' class, students held a live debate on their views for supporting or not supporting raising the minimum wage.
Rep. Welch left with some encouraging words for Irving students, "I always want you to remember one thing. The most powerful thing you all have is your voice. Don't be ashamed to use it. Always be willing to speak up, especially for what's right."
The Illinois Principals Association 'Principal For A Day' program provides an opportunity for principals and other administrators to build and refine relationships with their State and Federal legislators. Participation in this program involves State and Federal legislators visiting schools in their legislative district, interacting with staff and students, and performing selected administrative tasks during their visit.